In The Heart of a Miracle

Whistler, BC is one of the world's most coveted recreational destinations. Consistently rated as the best ski resort in North America, Whistler boasts the largest ski area on the continent. Akasha stands in the midst of over 200 marked trails. Ski directly from the front door to the base of two magnificent mountains
When the snow melts in the late spring its time to take out the golf clubs, tennis raquets, mountain bikes, hiking boots, kayaks, and ... dancing shoes! Not only is Whistler a gorgeous natural setting with unlimited opportunity to indulge in a healthy lifestyle, the Village offers gourmet dining, world class music and entertainment, and a cosmopolitan shopping district.
Whistler now attracts visitors all year- round. Akasha takes in the entire valley view from a commanding height. Prestigious Sunridge Plateau is the highest development on the mountain, yet it's just a five minute alpine walk from Akasha to the Village centre. Vancouver is just an hour and a half away along the Sea to Sky Highway.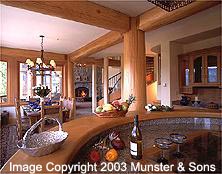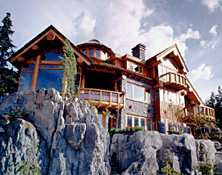 Staying at home, however may be the best option. With its perfect balance of tradition and technology, Akasha's comfort, warmth, and truly magical atmosphere is wonderfully seductive.
The Balance of Nature & Comfort
In ancient folklore, a red cedar is the gateway to Akasha, the spiritual seat of higher realms. Today a four hundred-year-old cedar is the central feature in the most inspired home in Whistler, British Columbia.
Rising powerfully from the central foyer and encircled with a stairway of hardwood and custom wrought iron. The cedar is only the first of many delights to be discovered at Akasha a rare jewel, the most creative home on the mountain.
Unparalleled Craftsmanship
Akasha's timeless design includes hewn coastal timber tipped with copper facing, fireplaces with log mantles, granite and river rock surfaces, and custom millwork. Every piece is an original.

Page 2