Munster & Sons Developments Ltd. has decades of experience designing, building, marketing and selling premier homes in Whistler. Years of success has placed Munster & Sons Developments Ltd. in an enviable market position, with the credentials, buying power, relationships, and knowledge to profitably capitalize on opportunities inherent in the Whistler real estate marketplace.
Munster & Sons Developments Ltd. have repeatedly generated exceptional rates of return on investment, and now seek an equity investor for their next project. This equity investment will entitle the equity investor to participate in the profits generated in this lucrative business opportunity. Meanwhile, the investor can confidently rely upon the expertise and experience of Munster & Sons Developments Ltd. to oversee and execute all the necessary steps in bringing a dream into reality, including executing or overseeing all stages of planning, designing, negotiating, building, interior design, and marketing and sales.
There are many ways to structure equity investment in order to meet the individual needs of the parties concerned. One approach is detailed in brief as follows:
A total project budget is determined
Bank financing is obtained on the land, and in phases during construction
The equity investor invests the shortfall between the bank financing and the total project budget
The project budget includes all standard expense items, such as interest on bank financing, interest on equity investor financing, general contractor fees, architect & design fees etc.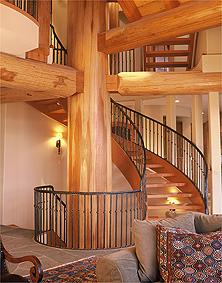 The staircase at Akasha winds around the 400 year old, red cedar main post
When the project is sold, profits are split between the equity investor and Munster & Sons Developments Ltd. as follows:N
First, interest is calculated and paid to both parties. (Interest is calculated at the same predetermined rate on the equity investor's investment and any amounts invested or deferred by Munster & Sons Developments Ltd.).

Second, profit is shared. Profit would be split 50 – 50 assuming that the equity investor provides all the financing, and that Munster & Sons Developments Ltd. provides all the expertise. (The percentage split of the profit would be adjusted pro-rata in the event that Munster & Sons Developments Ltd. or another party provides a portion of the equity investment.)
Munster & Sons Developments Ltd. have a track record of designing beautiful homes on spectacular lots with an attention to detail and sense of aesthetics that commands top dollar … stunning results which anyone can see and appreciate.
Only few people have the opportunity to see and appreciate that just as much care and attention was dedicated to ensuring that this stunning result was achieved in absolutely the most cost-effective manner. And only one investor will have the opportunity to not only see and appreciate the results, but also share in the profits!