Resort digs fetch ? million
Whistler custom home builders Andy and Bonnie Munster searched nearly three months for the 428-year old, 50-foot cedar log that would serve as the centerpiece for there latest creation, a 5,000-square-foot house with panoramic views of Whistler Village, Whistler Golf Course and surrounding mountain ranges.
The home, known as Akasha, sold to a 40-something U.S. computer executive in February for the staggering list price of ? million, marking it the highest marking property ever sold in the resort town. Until then, the most expensive residential deal in Whistler was in the mid-$3 million range.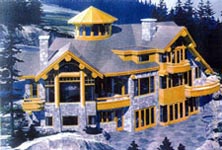 Up-market: Home sale sets standard
But what sets the exclusive property apart, other than details such as 24-elk-antler chandeliers and a 22-karat gold and glass border outlining the stone splash indoor pool, is the fact that the multi-million-dollar home was built without a buyer already lined up.
Bonnie Munster of Munster & Sons Developments Ltd. said that she knew it was a risky project, but she had confidence in the market.
"There are lots of people out there who just don't have time, and don't want to build their own home. Whistler wasn't offering anything for those people who want something special," said Munster, whose company served as the construction manager on the project and was involved in the design and marketing of the home.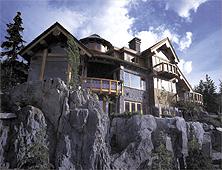 When Andy Munster first began sketching designs for Akasha, he envisioned an oversized fireplace as the focal point. Then, Munster changed his mind and began scouring the province for an old-growth cedar log that would extend up through the center of the home. The building team struggled to find a piece of wood large enough and strong enough to anchor the building. Eventually one was located in the Fraser River.
The rest of the design radiated out from the cedar, which is surrounded by a spiral staircase and extends up into a cupola with views of the village and surrounding mountains. ( In Shaman folklore, a red cedar is the gateway to Akasha, or heaven.)
The home's other unique features include: hand-split basalt stone walls, a resawn red cedar shake roof, heated stone pavers on the drive and walkways, hand-carved totem poles and a pool connected to a stream that cascades over sculptured rock. A curved red and yellow ceiling is designed to replicate the ribs of an over sized canoe.

Page 2