Builder/Architect
Greater Vancouver Edition
December 2002
Munster and Sons Developments Ltd.
A Reputation for World Renown Homes
Susan M Boyce
It is sometimes said that life imitates art. But in the case of Andy and Bonnie Munster, owners of Munster & Sons Developments Ltd. in Whistler, their life is an extension of art - their own, their clients', and the unexepected, ever delightful art found in nature.
"Whistler is a very creatice place," Bonnie says. "We work with many clients who are artists themselves or who have extensive art collections. We create more than simply a design and building for them. The houses become a focal point for artistic value, often taking on a life of their own as they evolve. It's such a joy to work with an international clientele who appreciate our collective creativity."

Andy is quick to point out this creative focus also complements the functionality of his designs. "Because of Whistler's location, we concentrate on mountain homes and are constantly looking up to the surrounding landscape for inspiration. We always design a home not only so the spaces flow and feel good when you're inside, but also so they work with our extreme climatic conditions. Even the landscaping focuses on designs which compliment the natural environment." This attention to design doesn't end with the building itself, or with the exterior ambiance. Working through her company, Random Harvest Productions, Bonnie also manages all the interior design and decoration.
"Working this closely with the owners helps ensure the finished home reflects their personality and lifestyle, and that the process from building through moving in is seamless," she says.
A Reputation for World Renown Homes
Perhaps their most famous home is Akasha, which when sold in the year 2000, was the most expensive home anywhere in Canada. Akasha is located on the slopes of Whistler Mountain and named after the ancient Shaman belief that the cedar tree represents a gateway to the Akashic records, where all knowledge - past and present and future - is stored. Designed to subtly echo this lore, a 428 year old cedar reaches 48 feet from the ground to the roof, forming Akasha's central support, the point around which the entire house radiates. Like an image from one of Tolstein's landscapes, the tree appears to be a living entity, although, in fact the log was rescued from a saw mill.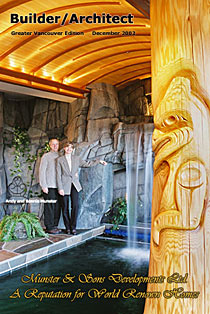 Above, a chandelier made of 24 intertwined elk antlers adds a magically romantic ambiance to this vaulted end of the main floor great room, with its panoramic, 180-degree view of the mountains and village below. "We import the antlers from Wyoming," Andy says. "When the elk shed their antlers at the end of winter, local Boy Scouts search through the forests and then sell them as a fund raising project."Akasha is filled with the unique and beautiful, an astonishing combination of antiquities and state-of-the-art. The kitchen with its Sub-Zero fridge, wine cooler, bouble ovens, and heated floors shares a curved eating bar with the dining room. Here Bonnie points out the table. "It's a rare Tekat-designed antique from India, and is actually a stage musicians used during a ceremonial feast." she explains.
The living room is, not surprisingly, comfortably casual and centred around a fireplace made of basalt, a local stone the native peoples believe has healing properties for those who can tap into its power.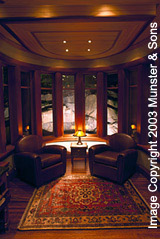 Downstairs is a world apart. A media room, with everything from rear projection screen and accoustically padded walls, to an audio nerve centre, where different music can be piped into every room in the house takes up one end. For the wine connoisseur, there's a wine cellar and tasting room, and for relaxing after a strenuous day on the slopes, a state-of-the-art, sculpted rock steam room. There's also a secondary laundry and two mechanical rooms.