histler Mountain, setting for our fashion features, was originally known – when it was known at all – as London Mountain. Alpine lakes were then the area's main attraction and through the summer, anglers would drive north from Vancouver along what is now known as the Sea to Sky Highway (120 kilometres/75 miles).
By 1964, when Garibaldi Lifts Ltd. began building facilities on the mountain, its name had been changed to Whistler - chosen as a tip of the ski cap to the alpine marmot, a rodent that communicates with its burrowing buddies through what sounds like whistling.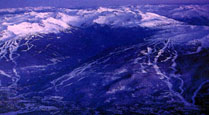 Whistler Village, an alpine hideaway surrounded (above) by a skier's dream: more than 7,00 acres of terrain, 5,280 feet of vertical. Photo: Paul Morrison.
The initial development at Whistler Mountain opened in 1966, with a four passenger gondola, a double chair, two T-bars and an office/cafeteria building. Today, the mountain has two high-speed gondolas, four high-speed quads, 15 lifts, five surface lifts, three triple chairs and one double chair, and can carry more than 26,000 skiers up the slopes every hour. Whistler Resort has 115 hotels, condominiums and bed-and-breakfast inns, 93 restaurants (several world-class), lounges and bars, and 207 retail shops. Among other things.
In 1973, Al Raine, who had coached the Canadian ski team (and married one of Canada's legendary skiers, Nancy Greene) approached the government of British Columbia with a proposal for the development of Whistler's neighboring mountain, Blackcomb. Blackcomb opened seven years later. Its hourly lift capacity is even greater, topping 29,000.

Nuvo's fashion shoot at Akasha
In 1980, at an elevation of 675 metres or 2,214 feet, Whistler Village took shape, and what had once been the town's garbage dump began its transformation into a glamorous, international holiday destination. In 1991, Whistler Blackcomb became the first ski resort outside the United States to be named number one in North America by the magazine Snow Country. In 1996, Whistler Blackcomb won top honours from all three major ski publications: Snow Country, Ski Magazine and Skiing Magazine.
No Wonder—more than 7,000 acres of terrain; 5,280 feet of vertical.
But there's more than one season at Whistler. Besides skiing, snowmobiling, snowboarding and other winter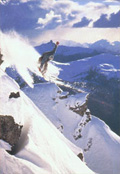 sports, Whistler offers all sorts of summer activities, from golf (four championship courses, by Arnold Palmer, Jack Nicklaus, Robert Trent Jones, Jr. and Robert Cupp) to open air concerts (bluegrass to symphony) to wine fairs.

Page 2