24 ELK-ANTLER CHANDELIERS
---
By Ian Bailey
VANCOUVER • The Prince of Wales and Arnold Schwarzeneger have already fallen for the charms of the British Columbia resort community of Whistler, but the sale of a lavish 29 room home for ?-million confirms the community's allure to some of the wealthiest ski buffs in the world.
The home, known as Akasha, is the most expensive residence ever sold in Whistler, a world-renowned ski destination located a 90-minute drive north of Vancouver.
Until now, the previous record for a home sale was set by a $3.8 million property.
"[The sale] is just an indication that the high end of the market is being sought after by people from the Lower Mainland and outside our traditional market area, including Americans and Europeans," said Bob Daniels, president of the Association of Whistler Realtors.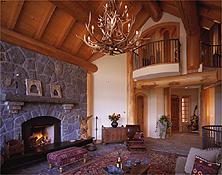 Antler chandelier in the living area of Akasha
"High-end people still recognize that Whistler represents very good value on a relative scale when compared with other resorts in North America," Daniels said.
The buyer of the ? million home is described as a 40-ish US computer executive, but has not otherwise been identified.
He does think he got a good deal, however.
"He totally enjoys the house," says Andy Munster, who designed the home over three years through his firm Munster & Sons Developments Ltd. "The first time he came up he had a hard time leaving."
The home is about 5,000 square feet. It's centrpiece is a 15-metre log that is more than 400 years old and was found in the Fraser Valley east of Vancouver.